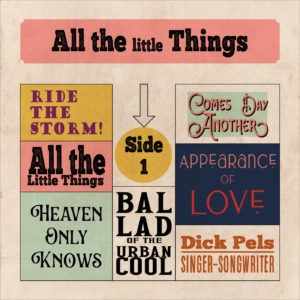 My third album 'All the Little Things' is out! Side 1 with 6 songs was released  in June 2021.
Side 2 with a further 7 songs came out in September 2021.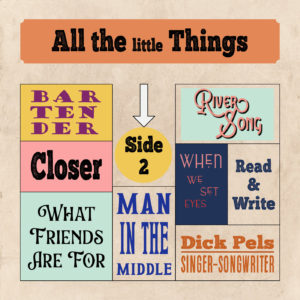 Praise for Meanwhile Gardens:
Te gekke cd! Ik hoor dat jij net zo'n grote McCartney fan bent als ik :-). Fijne stem en hele mooie liedjes! – Bertolf Lentink
My second album 'Meanwhile Gardens' came out in December 2018. It features the singles 'Find My Way' and 'Aleppo Blues', next to 9 new songs. Listen to the title track here:
Find the video, shot on location in West London, on the video page. 
My first album 'Crosspath' was released in 2015: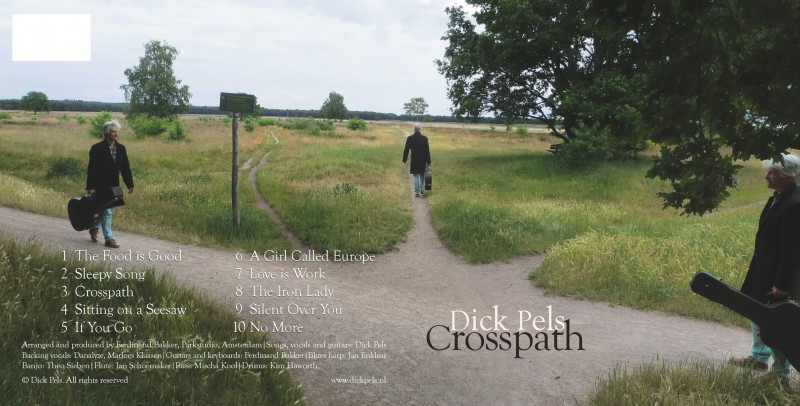 Listen to the title track:
Both albums are available to listen & download on Spotify, iTunes, Bandcamp, YouTube Music Key, Google Play, Amazon Music etc.
Order Meanwhile Gardens by mailing info@dickpels.nl
and paying € 10 (€ 8 plus € 2 shipping costs) into the following account:
IBAN: NL91 ASNB 0707870216
BIC: ASNBNL 21 (D.L. Pels, Amsterdam)
And you will get Crosspath for free! 
'Sleepy Song' was written for my granddaughter Yasmine: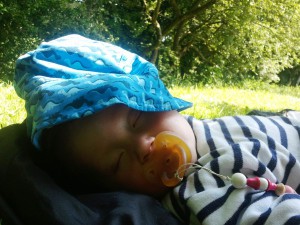 'The Iron Lady' is a song about the ups and downs of life on board my sailing houseboat 'Nymphaea'. Unfortunately, Theo Sieben's nice banjo is missing from the album version. Sometimes things go wrong. But here is the track in full glory: